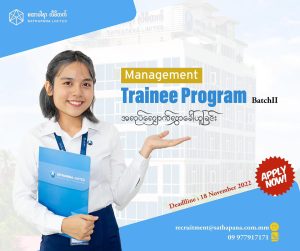 SATHAPANA Limited's Management Trainee Program (Batch-2) is now open for application!
Are you a fresh graduate or someone with less than two years of working experience who's hunting down an opportunity for your career development?
How
SATHAPANA is hiring Management Trainees to participate in the Management Trainee Program at Head Office!
It is a one-year management trainee program that will equip you with the knowledge and skillset to become a successful manager in one of the finest Microfinance Companies in Myanmar.
The program will be a page-turner for those of you who are planning to get your career set on the path of banking and finance industry.
As a management trainee, you will be exposed to a multi-rotational experience in 9 working departments such as Credit, Operations, Finance, Internal Audit, Risk & Compliance, Human Resources, Administration, Marketing, IT & MIS and Learning & Development.
Additionally, the program will involve a branch visit for you to pick up some practical experience in one of our 60 branches across Myanmar.
We are looking to recruit passionate individuals who meet the following requirements:
• Bachelor's degree or above from an accredited university
• Excellent written, communication and presentation skills
• Capable of communicating effectively, embracing changes and overcoming challenges with the ability to safeguard positive attitude under challenging situations and remain open to work with others from diverse cultures
• Ability to bring divergent ideas together and think deeply and rationally which contributes to creative and innovative solutions
• Capable of serving as a role model for displaying openness, teamwork and integrity
• Proficient in Business English (Minimum equivalent to IELTS Overall Band Score 5.5)
• No any older than 25 years old
Applications close on 15 October 2022, so don't wait and apply now!
Step 1: Click on the link below!
Step 2: Drop your email, click "Next" and fill up the application form.
Step 3: Follow the instructions and click "Submit" when you are done!
Step 4: You will receive a copy of your responses via email after successfully
submitting the application.Apply here